How To Choose A Bridal Wedding Dress? Tips For Choosing Five Typical Figures
Some brides are thinner and afraid that they cannot afford the wedding dress; some brides are more plump, afraid that they will be more fat in their
wedding dresses
. Brides of each body shape have their own worries when choosing a wedding dress. How can they To cover up your shortcomings and highlight your body strengths to choose a wedding dress is what I want to share with the brides-to-be today!
1. Slim type
Body shape characteristics: generally thinner, more skinny and beautiful, visually giving people a more "dry" feeling.
Recommended styles: ①Choose a wedding dress with a tighter waist, highlighting the advantage of a small waist. The princess-style tutu will break the thinness visually and give people a sweet and lovely feeling.
②You can choose the style of small neckline, v-neck, stand-up collar, etc. are very good.
③The upper body style can have complex designs, such as hand embroidery, immediate tailoring, reciprocating yarn design, etc., so that the bride does not look too thin, and the unique design is elegant and sexy.
Elements to avoid: tube top, strapless, light wedding dress.
2. Petite
Stylistic characteristics: The shorter bride gives a lovely and loving feeling.
Recommended style: ①The frame is small, you can choose a strapless wedding dress to highlight your clavicle advantage. strapless wedding dresses generally have fishbone support at the waist, and the center of gravity is at the waist, so there is no need to worry about the upper body falling off.
②Choose a middle-high waistline to lengthen the visual lines of the legs.
③The upper body can tighten the chest, and the lower body chooses the A version style, there will be a gorgeous and refined feeling.
④ Petite brides must wear high heels with wedding dresses, the best heel height is 10-12 cm.
⑤ If the style is simple but has a sense of design, it is not suitable to have too many complicated designs.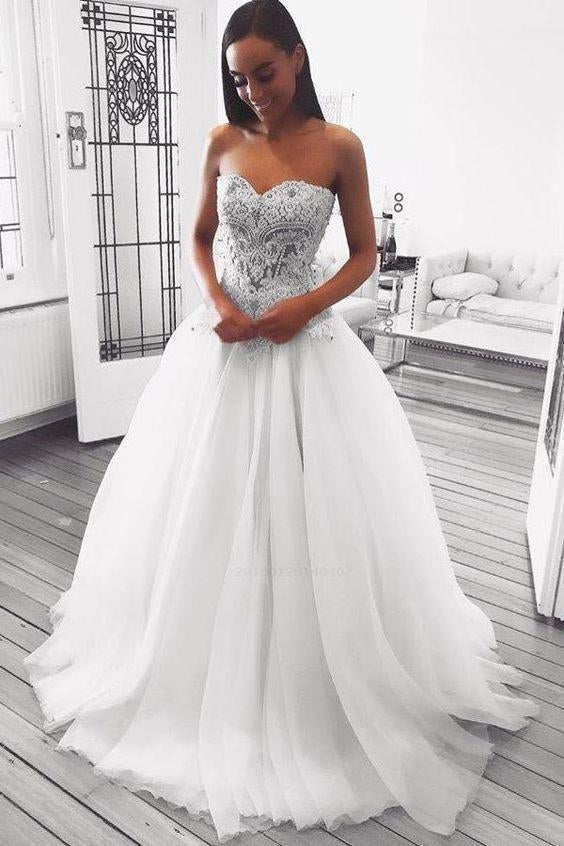 3. Type S
Body shape characteristics: The chest and hips are fuller, and the waist is very thin, making it a perfect body.
Recommended style: ①Choose a slim-fit wedding dress to highlight your own figure advantages.
Mermaid wedding dresses
are very suitable for brides of this type.
②Other styles can also be controlled. It can be said that which kind of wedding dress the bride of this body chooses is ok. Brides who want to highlight their own highlights, be different, and follow the style of the queen of fashion, can try some bold and alternative styles with unique designs.
Avoid elements: any element can be tried.
4. Fatty
Body shape characteristics: The overall body shape is relatively well-proportioned, with a little fleshy feeling, mostly cute girls.
Recommended style: ①Try to choose a wedding dress with simple and obvious lines. Don't make too complicated craftsmanship, but you can have bright settings in the details. It will not be visually bloated. The line sense can neutralize the round body shape and achieve slimness. The effect is not simple to be concise.
②You can choose a fluffy princess dress design for the lower body, but don't oversize the skirt.
③You can choose a shoulder or half-shoulder design. The inverted V-neck covers the fleshy parts of the shoulders and exposes the slender parts of the neck and arms.
④Be sure to choose a waist-strapped version, and contrast with the fluffy hem, it will look thinner visually.
Elements to avoid: high collars, excessive decorations.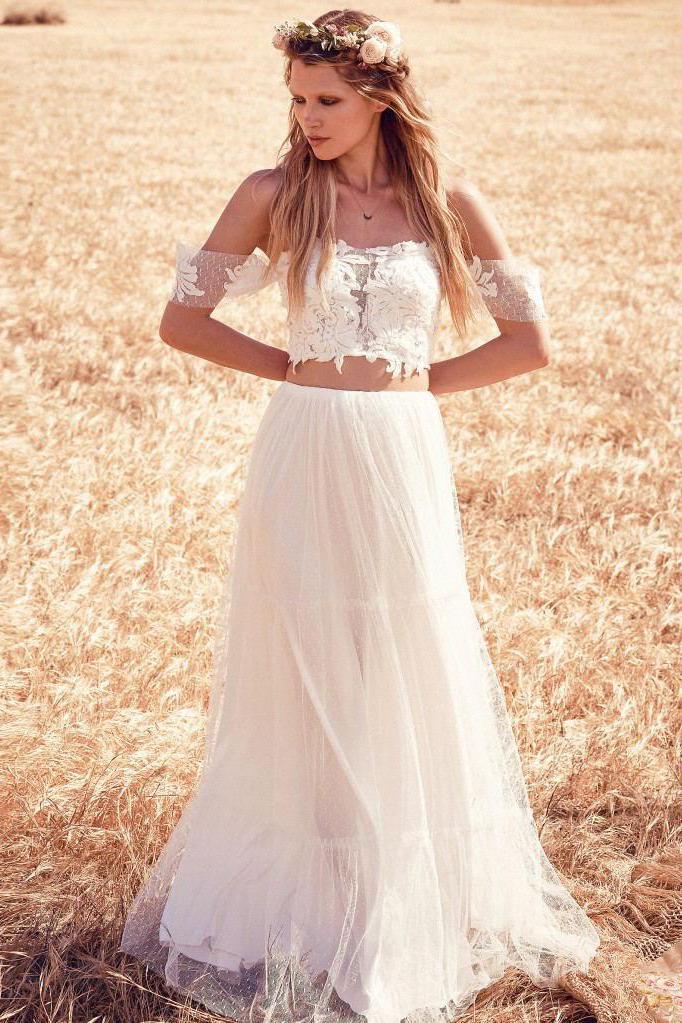 5. Plump type
Body shape features: more breasts, buttocks and thighs, and the overall body shape is fuller and rounder.
Style recommendation: ①You can show your own chest advantages, choose V-neck or large V-neck styles, so that the visual center of gravity will move down to the thinner waist.
②
A-line wedding dress
is very suitable for full-bodied brides. Don't choose princess style or ball gown style, it will look more rounded, but the A-line wedding dress just stretches the line and has a fresh and beautiful feeling.
③Similarly, choose a style with cartilage to shape the waist to achieve the effect of waist reduction. And the waist should not be designed with too many folds, it will appear bloated.
④For brides with darker skin, white and champagne wedding dresses can be chosen.
Elements to avoid: pleated design, large pettiskirt, tube top.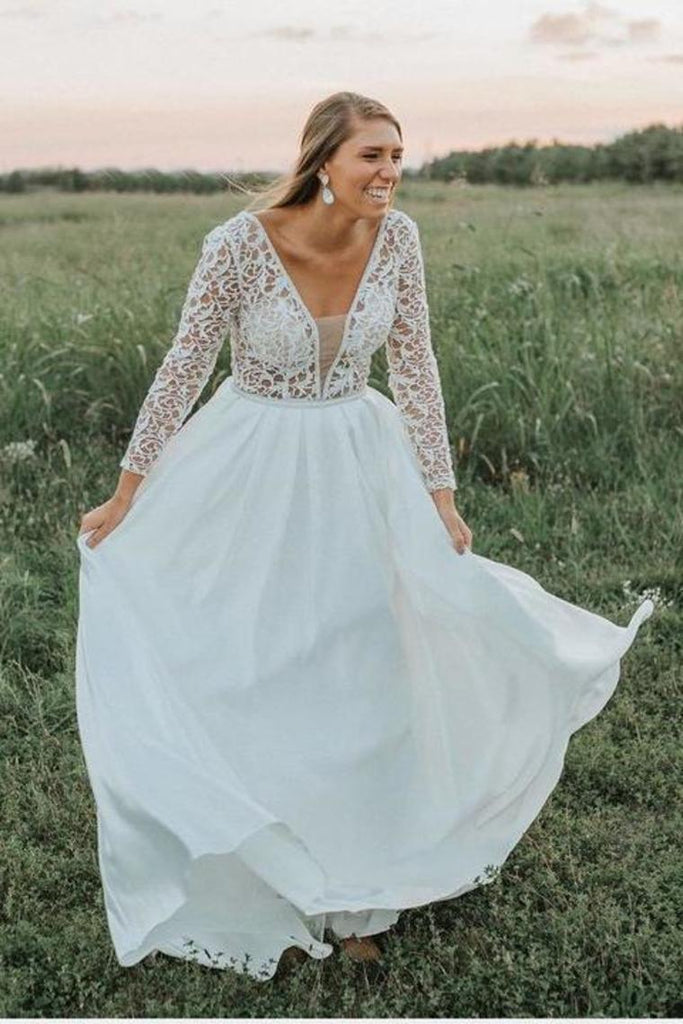 PS: Tell everyone, if the bride is pregnant, the following points should be paid attention to when choosing a wedding dress:
1. Choose a high waist line to not add burden to the lower abdomen.
2. Choose strap style instead of zipper style, you can adjust the tightness at any time.
3. Choose tulle fabric, which is easy to move, and the tail should not be too large.
As long as the wedding dress is selected well, it can not only improve the body shape, but also turn your shortcomings into advantages! Brides choose according to their body shape!